For a storefront - Adams Rite is the lock required. The MS 18505 is a solid deadbolt for aluminum frames. The 4700 / 4900 deadlock will allow you to control who comes in and still keep the door locked. It can be fixed to allow passage without a key if needed.
Contact us for applications and further specifications.
Alarm Lock Trilogy series of access controls are cost effective offering in the stand alone access control field. These locks can be used for outside entry. You can also control access to sensitive or restricted areas of your operations with this lock.
Most of these locks can be programmed at the button pad or with the Alarm Lock DL- Windows software and the data transferred with either the DTM2 Data Transfer Module, or a Palm PDA device with infrared transfer, also available at extra cost.
With an "IC" system in place, your locks can be rekeyed as quickly as you would walk around your store, office or plant. Pull out one core and replace it with another ready to go core. Keys would be supplied in a quantity in advance so your security will always be fresh and no service call is required to change these high tech locks.
Simply return the old cores to us via the mail or other carrier and we will send them back to you rekeyed with a set of keys - ready to roll for your next rekey.
If you currently have BEST™ IC and would like to have it serviced, we can work with most any keyway and rekey your existing cores or add and expand your existing system, whether you have a control key or not. We can also service most types of IC devices from our large stock of parts.
We can key in any format - A2 or A4 - and carry most common "B" keyways in stock both cores and keys, along with our Arrow stock and restricted sections.
If you have a large format IC like Schlage, Yale, or Corbin IC we can also work with those to rekey or expand your current system. No control key? We can furnish one with our work if needed.
If it is IC, call us. We are the Interchangeable Core experts!
Burglar bars are an old way but it works. Our Sterling Burglar Bars are attractive and solid. A 5/16 inch bar painted in a neutral gray color will close off openings which would otherwise invite problems in. In our increasingly dangerous world, these provide a way to secure your basement and first floor windows. Complies with guidelines established by the US Government Consumer Product Safety Commission for playground equipment, and will prevent falls by small children.
Available in premade expandable bar sets of six inches high each - in 2, 3, 4, 5, and 6 high bar sets and longer 4 bar sets. These can be installed to swing open if necessary and then can be held closed either with a padlock or a special pin which would allow quick exit from the inside if necessary.
Call us for size and application data.
CompX also makes locks for mail boxes. Both the apartment gang type, and for Postal Pedestal Locks. We carry the new C9100 and C9200 USPS locks, along with the new D4300 and D4301 keys.
One hard to find lock is for the desk side multi drawer locks. Shown right is the Timberline D150 Disc Tumbler Gang Lock This application is for locking drawers on the side of the pedestal. The cylinder mounts near the top and requires a 7/8 inch hole. The bar mounts inside and goes down 22 inches with several 3/8 inch pins which can be adjusted to suit which engage the drawers. Operation is by turning the key which moves the bar up and into notches in the drawers to lock. Key can be removed in either locked or unlocked position.
We also carry the cylinders for Timberline lock, which will allow a quick way to rekey your existing locks, or key them alike.
Another hard to find lock is for the chest/lid locks. The C8384 chest lock uses a barrel type key and is found in many antique and upscale furniture. Mortised into the drawer body near the top, this lock will make the perfect replacement for those which have died. We also carry keys for this lock, shown below.
Also many people do not know that the pattern type freezer keys are available. We have them in both the D8590 "Cross Type" and the D8591 "Pentagon Type".
If you have a vending machine or other application which requires the pop out handle "T" type lock, here is your replacement lock. We carry the standard sized "GEM" round key cylinder for it. We also make "ACE" type keys which these locks need. 1137 standard keys only.
These two have served many of our clients over the years with much success in keeping shrinkage down and the door closed.
Here is the latest Detex innovation. This is the Detex V-40 exit alarm. This should fit most applications, and should cover most existing holes in your doors. It is an Advantex 40 series with an alarm built in.
Shown with optional cylinder dogging.
*Durable design for both primary and secondary exits.
*Angled end cap deflects damage from device, and eliminates the "catch" barrier some other panic hardware have.
*NON HANDED.
* 1/8 turn hex key or cylinder dogging - must be specified when ordering.
*Exceeds 500,000 cycles, and has a 10 year limited warranty on mechanical parts, and a 3 year limited warranty on alarm parts.
All Detex locks can be keyed into your existing masterkey system, or existing locks for your convenience.
There are many more Detex Exit Alarms available. Call and ask about our total line up of Detex products to protect your plant, store, or office.
Return to table of contents
---
Don Jo door reinforcers and latch guards
Don Jo latch guards cover the vulnerable are between the door and the jamb. There are many different types of guards available to suit your application. Several can cover an electric strike to add protection to this type of device.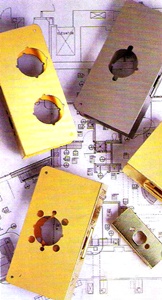 Harden your doors with Don Jo quality wrap around plates. These will make any door harder to kick in. If you have a damaged door or an obsolete lock these will cover the existing holes or damage, and allow a modern lock to be installed. Finishes and sizing to match most backsets, door sizes and finishes.
Also in the Don Jo line are push-pull plates, door pulls, kick plates, flush bolts and latches, filler plates, lock anchor plates, and extended ANSI type lip strikes. If it is a door accessory you need - Don Jo has it for you!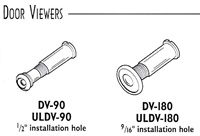 AND if you need a door with a view, Don Jo has those too! Both in 1/2 inch regular view, and 9/16 inch wide view. Come see what you have been missing!
Call for application and data on our complete line of protection devices for your existing hardware.
Return to table of contents
---
---
Kaba Simplex 1000 - 3000 - 5000 - 7100 Series
The dependable Kaba Simplex 1000 series, formerly known as "Simplex" is our oldest offering in the stand alone access control field. Available in both knobs and ADA compliant levers, this mechanical lock is the staple of the industry. A single code entry lock and is available to fit most applications.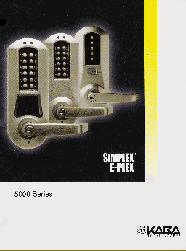 The Kaba Simplex 3000 series is designed for the narrow style aluminum store front. A mechanical single code entry device, this unit will allow entry by code or key, and can be dogged open to allow free entry during the day. This couples with the Adams Rite 4700 / 4900 Deadlock, and uses the Adams Rite 4590 Paddle Operator on the inside. Available in US 26D and US 079 Dark Bronze.
The Kaba E-Plex 3000 like the other locks in the E-Plex line further expands what can be done for the aluminum store front. Now giving you more codes and choices in who comes in and when. It is the newest addition to this long standing line of security solutions for the business owner.
Newest is the Kaba Simplex 5000 series of mechanical devices shown here. It will work for many applications like the 1000 series and is available in ADA compliant levers only. This is a single code entry lock and the key override can be adapted to a high security cylinder at additional cost.
The Kaba Simplex E-Plex™ is a further application of the 5000 series and allows multiple users depending on the lock model to 3,000 user codes. Prox Card and HID fobs entry on one model.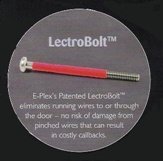 E-Plex also features the exclusive LectroBolt™ which eliminates running wires through or to the door. NO more damage from pinched wires which could cause problems. A Kaba exclusive.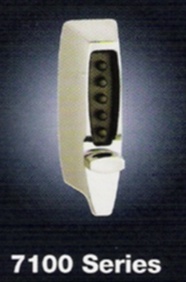 The Kaba Simplex 7100 series is a single code entry deadbolt. This mechanical deadbolt has a one inch throw, and is thrown from the inside or outside without a code. Available in either 2 3/8 or 2 3/4 backset, which must be specified when ordering and is available in US3 bright brass, or US26D dull chrome. It will fit an existing deadbolt location. With no keyhole and hundreds of codes this will keep the door locked.
Return to table of contents
---
---
L C N Door Closers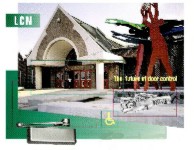 When the specification or application calls for heavy duty door closers, the name to know is LCN. A heavy duty cast iron cylinder and all weather hydraulic fluid mean the door will close dependably every time. UL listed for use on fire rated doors.

Shown right is the 4040 series door closer. It is non handed, and can be mounted on interior doors to 5 feet and exterior doors to 4 feet. It can be mounted surface, parallel arm, and overhead. It comes in aluminum (26D) and dark bronze (US 10B) - other finishes available on order.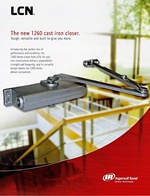 Introducing the new 1260 Series closer from LCN. This is the perfect mix of performance and durability. The cast iron construction delivers strength and longevity over aluminum body closers.
The 1260 gives you more of what you are looking for in a door closer. It is designed to sit in the existing footprint of most closers out there and will retrofit perfectly your existing closer. It has a long list of features which will make this the last closer you will have to replace.
Call today for application data and pricing.
Return to table of contents
---
L S D A Hardware

Most locks today are made out of the country. Why pay more for an import when this lock line will do the job? We have been using these locks for the past 10 years without call backs or problems. This is a solidly built low cost alternative import which is high in value.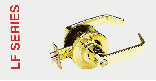 Shown left is the LF series. A heavy duty grade 1 leverset, ADA compliant and UL listed for a grade "A" 3 hour fire door. 2 3/4 backset, non handed, and is available in passage, privacy, entry, storeroom, classroom, and double keyed institutional functions. Finishes available - US-3 Polished Brass - US-10B Dark Bronze - US-26D Satin Chrome. We have installed hundreds of these in many factories, churches, schools, and stores with no call backs. Available in "IC" format. Compare the cost savings - A name brand entry lever lock will run $435.00, the LS entry lever lock $292.00. With a "clutch"!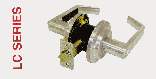 Shown right is the LC series. A medium duty grade 2 leverset, with a clutch. What this means is when the outside lever is locked, it freewheels. This means that you do not have to worry about the lever being broken off, or being forced. This is available in the same functions and finishes as the LF. Compare costs - A name brand entry group 2 leverset - $235.00, the same in LSDA - $122.50. IC format available in the L series, non clutch lock.
*Prices in this section do not include installation or service calls.*

This is the 220 series deadbolt. A solid body lock held to the door with two bolts top and bottom, and two screws through the middle. It has a one inch throw bolt with a saw proof rod in the middle. Available in the usual finishes.

There are dozens more LSDA locks, knobsets, residential locks. Small locks like the drawer lock left, and the cam lock right along with other items which can protect your property at a lower cost. Call us today to find out how we can save you money while still protecting your operations.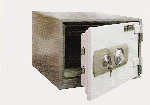 Safes too! you don't need to be rich to have your own personal protection for your estate papers, coin collections, and other valuable personal property. Don't be mis-lead that a bank safe deposit box is the ultimate answer. You can't get at your property when the bank is closed, and your estate will need permission from the court to open your box at the bank. With everything safely stored in one of these strong, fire-proof safes, it will be available to you at any time, and for any reason. Small safes can be anchored to the floor to prevent being carried off.
Return to table of contents
---
Commercial Master Padlocks


Keyed to your cylinders, or IC cores installed these Master Commercial Padlocks will do the job. These heavy duty door cylinder keyed padlocks can be keyed into your existing system, and operated with your existing keys.
The brass 6842 works with most cylindrical locks and will hold up under heavy service with the boron shackle and twin locking balls.


The two Weather Tough 6621 locks shown right are designed for outdoor usage. Both feature a bottom cover to shield the cylinder from the weather. The shrouded lock will resist any bolt cutters. These are available in door hardware keyed and IC core.
The chrome 7031 lock to the left, is for IC. We have provided many of these over the years for our IC clients and they are working well.
One thing most do not know - if your commercial padlock dies or gets cut off, save the body. We can replace shackles and rebuild these locks at a fraction of the cost of replacing them.
Master Residential Grade 3 Door Locks
Here is the Master Door Hardware Group 3 locks. Note it is all solid brass or steel construction, no die cast or plastic here. These are excellent residential locks which will give you long service, and can be rekeyed easily. We carry Schlage SC-1 and Kwikset KW-1 in house, Weiser WR-3 available on order.
Return to table of contents
---
Mul-T-Lock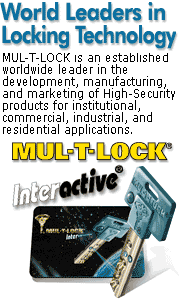 This is a stand alone high security lock and key system. It is our latest offering and the latest word in total key control and property protection.
The unique patented Interactive Key Control™ gives the end user the confidence that they know that they are the only ones who can obtain keys. Protected by Mul-T-Lock's key order card, orders for additional keys must be verified by us before we will order out more keys. Only Mul-T-Lock dealers can service these locks.

The exclusive dimple keys and the 10 pin cut within a cut assure you that they are secure.

Cylinders available to adapt to any lock or application. Call us today to see samples and discuss how we can secure your plant, store, or office with this exciting new product.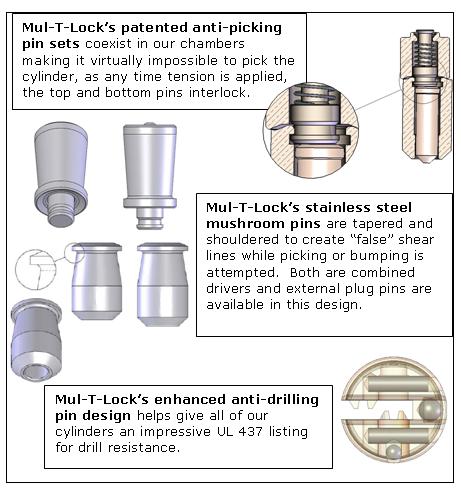 Here you see more than I can tell, how Mul-T-Lock provides bump proof security. The anti-picking pins, and the tight internal tolerances make it hard trying to force the lock open.
Courtesy of Mr. Roy Miller of Mul-T-Lock via the ClearStar Network. Thanks!
Return to table of contents
---
Pacific Lock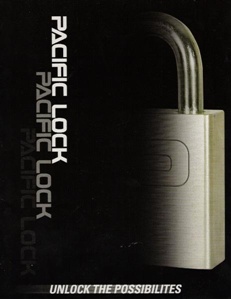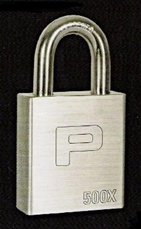 Beyond high security is Extreme Security. Here you will find Pacific Lock Padlocks. When extreme security is a priority, these two shown right are your locks.
Top is the Pac Lock 500X - a two inch solid hardened body with a cut proof 3/8 inch shackle. Normal bolt cutters just dent the thing. Keyed alike or different - for a chain or vending machine - this is your lock. This lock comes with a "Series A" cylinder and "OEM adaptor" which means it can be keyed to your door hardware.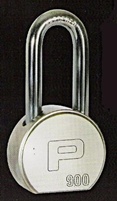 Below is the Pac Lock 900. This is about as heavy duty as you can get. A 2 1/2 inch round body with twin locking balls, and a 7/16 shackle. We tried to remachine one of these for IC cores. It ate up tons of tooling and only put a dent in the thing. The body has a 1 1/6 inch thickness, and the inner clearance is 1 1/8 inch. There are two and three inch shackles available. This lock comes in the Pac Lock standard 6 pin keyway.This lock, as tough as it is, can be easily serviced, like all our other Commercial Padlocks.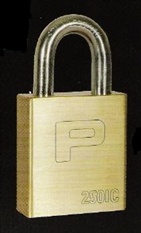 Left is the Pac Lock 2501 IC high security padlock. It is the same construction as the 500 X but in a brass body and accepts standard IC cores. It is a two inch body, 3/4 of an inch thick, and has a 3/8 inch shackle. Clearance is 1 1/8 inch. Two and three inch shackles available. For a heavy duty IC application, this is your lock.
There are more Pacific Locks available, call us for applications and specifications.
Return to table of contents
---
Safe Locks and Safe Deposit Locks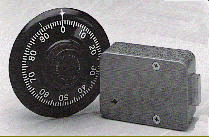 We carry several lines of safe locks. Shown here is our Ilco made safe lock. This is a good replacement for a lock which has failed. We also sell S & G safe locks, which is another good replacement lock. Either one of these will match the footprint of most locks in service today. Call us for application.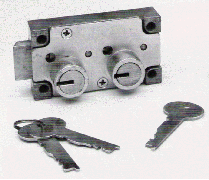 Our safe deposit locks can be matched to most which need replacement. We can match most guard key setups, and types. These are found not only in bank vaults, but on the inside of safes keeping the inner doors locked. Recombination of this lever lock is possible, and keys can be made for lost keys.
If your safe lock is acting up and getting hard to open call us for service before it goes to a total lockout. Combinations can be easily changed, whether it is mechanical or electronic. Have it done professionally so it will continue to operate correctly.
Total lockouts or lost combinations are expensive to correct. Call before you get to that point.
Return to table of contents
---
---
Schlage Key Control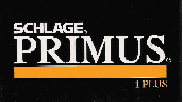 Schlage Primus One Plus provides you with total key control over unauthorized duplication of keys. This utility patent controlled cylinder has a unique keyway with a secondary milling which controls the finger pins and the side bar. This assures you that given your own internal key control - all keys can be accounted for.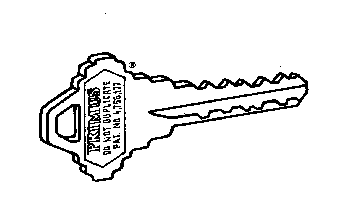 One feature of Primus is the Classic C and E keyways can be paired with the Primus CP or EP respectively. This means that the Primus key will enter the Classic Keyway - but the Classic key will not enter the Primus keyway. This gives you flexibility in deciding where high security is needed and where it is not. By issuing all Primus keys - you will have key control. This lock is available in a UL 437 listed cylinder for drill and pick resistance as well.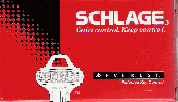 The new Schlage Everest is another utility patent controlled lock. Available in a stand alone C123, C125, and C145 keyways. This cylinder features a side lock pin and will give you key control at a lower cost.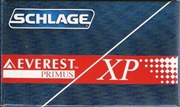 ALSO available in Everest Primus to match Everest keyways like regular Primus at additional cost.
Schlage Primus and Everest cylinders are available to fit most applications along with large format interchangeable core locks which can be integrated into any Schlage key system, in the same keyway family.
Interchangeable Core Locks, either large format like Schlage or small format like the Arrow IC are a good way to protect your store, plant or office. With spare cores on hand, and a quantity of keys - you can rekey your locks without waiting for a serivce call, or the expense of having it done.
Everest 29
This is our latest key system. Everest 29 is patented until 2029, and will give your plant real key control. Available like the two above, in both standard keying, and Primus, at extra cost.
Ask about our "dual system" keying with conventional Everest and Everest 29. Put the high security cylinders where the need is greatest, and use the lower security cylinders for the rest. This will give you control where needed, and hold the cost down.
Schlage Locks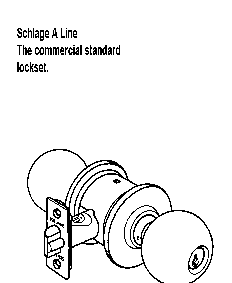 Schlage Lock - the Cadillac of hardware. Although made in Mexico today, it still reigns as the highest standard of the industry. It is still available in all the traditional lines as shown right and all commercial finishes. If you want to go first class, this is your lock! For the residential client, this lock line offers the supreme durability and long life which any big box lock will not stand up to. Step up to the next level of quality and security with Schlage heavy duty locks. * H line by special order only.*
Return to table of contents
---
---
Von Duprin Exit Devices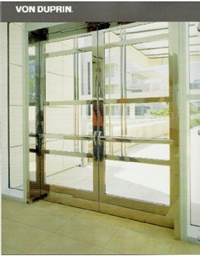 North America's most preferred exit device. This is the way out. Von Duprin began its century long tradition of leadership in 1908 with the invention of the first fire exit device. All Von Duprin exit devices deliver unparalleled durability and operation.

This is the VDP model 99 Exit Device for heavy traffic locations. Known for it's quiet operation, and modern touchbar styling - this will enhance any door on which it is installed. This device can be dogged open to allow free flow of traffic or used strictly as an exit device to keep the door closed, except for an emergency.

For a more economical exit device, the VDP model 22 Exit Device can't be beat. Like the 99 device, it is also a quiet operator, and has a slimmer touchbar styling. Both the model 99 and the model 22 come in 3 or 4 foot lengths, and can be cut in the field to match the door size. Both are available in the usual commercial finishes, and more are available on special order. Call us for further specifications and applications on this heavy duty exit device.
Return to table of contents
---
---
 Return to main page.
---
 Return to page 2 Solutions and other information.
---
Well, that is our Product Showcase. We carry most of this in house or have it on next day delivery. Call us or drop us a line at the E-mail below. Thanks for taking the time to look thru our whole line up There is more, but space limits us to what we can show on one web page..
BE SURE to see our other web page - www.northwesternlock.com - for our specials and sales. Like us on Facebook from that site, and be sure to add comments to that page. This is our huge page with all the bells and whistles to show what we do entirely.

nwlock@execpc.com
Just a historical note. This web page has been evolving since 1998. It has gone thru many revisions over the years, and this is our latest edition. Formerly a huge "one up" page, it now is back to it's three page format. I hope you enjoyed this look at what we do, what we sell and service. With 43 years in the security business, you know things will get done right the first time. Let our experience show you how to protect your people, products and plant.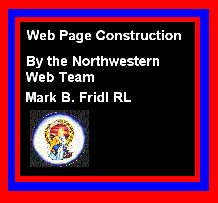 Mark B. Fridl RL
Owner-
Northwestern Lock Service
Waukesha, WI 53187